In the digital age, security is of utmost importance. Businesses and individuals alike need to protect their sensitive data from potential threats and breaches. This is where SSH (Secure Shell) comes into play. SSH is a network protocol that allows secure communication between two devices. But what exactly is a premium SSH server? Let's delve deeper into this topic.
What is SSH and its importance
SSH, also known as Secure Shell, is a cryptographic network protocol that enables secure command-line remote access to a device or server. It provides a secure channel over an unsecured network, protecting data from eavesdropping, hijacking, and other types of attacks.
The importance of SSH lies in its ability to authenticate users and encrypt data, ensuring that sensitive information remains confidential. It is widely used by system administrators, developers, and IT professionals to securely manage remote servers and devices.
Benefits of using a premium SSH server
A premium SSH server offers enhanced features and capabilities compared to a standard SSH server. Here are some of the benefits:
Enhanced Security: Premium SSH servers provide advanced encryption algorithms and authentication methods, making it difficult for unauthorized users to gain access to your server.

Faster Connection Speeds: Premium SSH servers are equipped with robust infrastructure, allowing for faster data transfer and improved connection speeds.

Reliability: Premium SSH servers are known for their uptime and stability. This ensures that your server remains accessible and operational at all times.

Additional Features: Premium SSH servers often come with additional features such as file transfer capabilities, integrated file managers, and multi-factor authentication, providing a comprehensive and convenient solution for remote server management.
In conclusion, a premium SSH server offers enhanced security, faster connection speeds, reliability, and additional features compared to a standard SSH server. Investing in a premium SSH server can provide peace of mind and ensure the protection of your sensitive data.
Understanding SSH Server
What is an SSH server and how does it work?
An SSH server, also known as a Secure Shell server, is a software program that allows secure communication between two devices over a network. It provides a secure channel for remote access to a device or server, enabling users to execute commands, transfer files, and manage the system remotely.
The SSH server works by establishing a secure connection between the client and the server using cryptographic techniques. When a client initiates a connection, the server verifies the client's identity through authentication methods such as passwords, public key authentication, or other security tokens. Once the client is authenticated, the SSH server encrypts the communication and creates a secure tunnel through which the data is transmitted.
The SSH server ensures the confidentiality and integrity of the data by encrypting it using strong encryption algorithms. This prevents eavesdropping and protects the information from unauthorized access. Additionally, SSH servers can also provide features like port forwarding, X11 forwarding, and tunneling, enhancing the functionality and flexibility of remote access.
Different types of SSH servers available
There are several types of SSH servers available, each with its own set of features and capabilities. Some popular SSH server implementations include:
OpenSSH: OpenSSH is one of the most widely used and popular SSH server implementations. It is open source and available for various operating systems, including Linux, macOS, and Windows. OpenSSH is known for its security, flexibility, and extensive feature set.

Bitvise SSH Server: Bitvise SSH Server is a Windows-based SSH server that offers advanced security features and comprehensive remote administration capabilities. It is designed to be easy to use and provides a user-friendly interface for managing SSH connections.

SSH Tectia Server: SSH Tectia Server is a commercial SSH server that provides enhanced security features and scalability. It is suitable for large-scale enterprise environments and offers advanced authentication methods, high-performance encryption algorithms, and centralized management.

VanDyke VShell Server: VShell Server is a commercial SSH server that offers secure remote access and file transfer capabilities. It provides extensive customization options, granular access control, and audit logging for compliance requirements.
Choosing the right SSH server depends on your specific needs and requirements. Whether you need a free, open-source solution or a commercial one with advanced features, there is an SSH server available to suit your needs.
Features of a Premium SSH Server
Enhanced security measures in premium SSH servers
Premium SSH servers prioritize security as a key feature, providing robust measures to safeguard the communication between client and server. These servers employ advanced security techniques to prevent unauthorized access and protect sensitive data from potential threats.
Premium SSH servers often offer features like enhanced user authentication methods. These may include options such as multifactor authentication and integration with external authentication systems like LDAP or Active Directory. By implementing these additional layers of authentication, premium SSH servers ensure that only authorized users can access the server.
Furthermore, premium SSH servers often come with built-in firewall capabilities that allow administrators to define specific rules for network traffic. This helps in preventing unauthorized access attempts and mitigating potential security breaches.
Advanced encryption protocols used
Premium SSH servers utilize advanced encryption protocols to secure the communication between the client and server. These protocols, such as AES (Advanced Encryption Standard), provide strong encryption algorithms that ensure the confidentiality and integrity of the data transmitted over the network.
In addition to encryption, premium SSH servers also implement secure key exchange mechanisms. These mechanisms ensure that the cryptographic keys used for encryption are exchanged securely between the client and server, preventing any potential vulnerabilities in the key exchange process.
Premium SSH servers also support a wide range of encryption algorithms, allowing administrators to choose the most suitable one for their specific requirements. This flexibility enables users to strike the right balance between security and performance, based on their network environment.
Overall, with enhanced security measures and advanced encryption protocols, premium SSH servers provide a secure and reliable platform for remote access and data transfer, meeting the stringent security demands of businesses and organizations.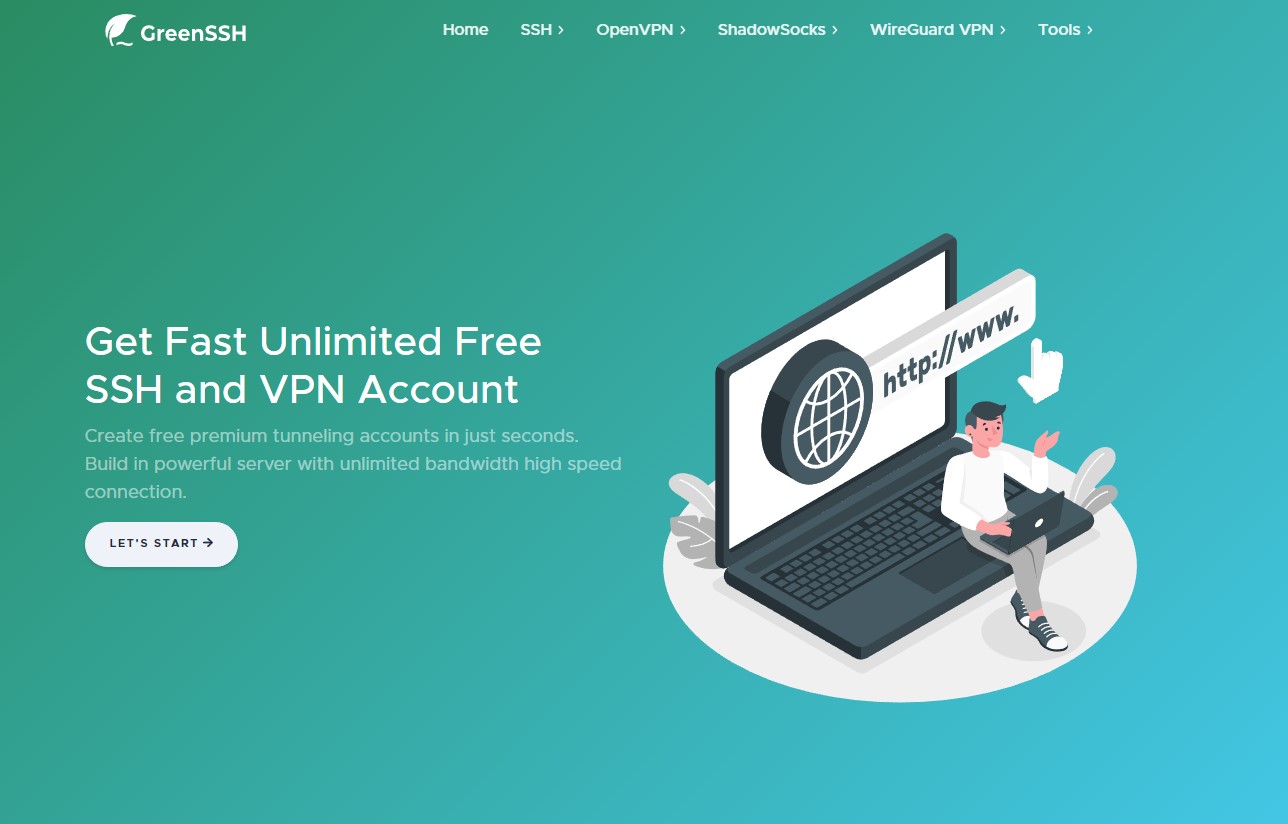 Advantages of Using a Premium SSH Server
Faster network speeds and bandwidth
When it comes to remote access and data transfer, network speed and bandwidth are crucial factors. Premium SSH servers offer significant advantages in this area. These servers are optimized to provide faster network speeds, enabling users to transfer files and perform remote tasks more efficiently.
Using advanced compression algorithms, premium SSH servers minimize the data size during transmission, resulting in faster transfer speeds. This is particularly beneficial when working with large files or when conducting remote operations that require real-time responsiveness.
Furthermore, premium SSH servers have higher bandwidth capacities, ensuring that multiple users can connect and transfer data simultaneously without experiencing slowdowns or bottlenecks. This is especially important for businesses and organizations that require seamless collaboration across teams and departments.
Reliable and uninterrupted connections
The reliability of a SSH server is paramount, especially for businesses and organizations that rely on remote access for critical operations. Premium SSH servers are designed to provide stable and uninterrupted connections.
These servers have built-in failover mechanisms, ensuring that if one server goes down, another server will seamlessly take over, minimizing any disruptions. Premium SSH servers also have load balancing capabilities, distributing the network traffic evenly across multiple servers, further enhancing reliability.
Additionally, premium SSH servers have advanced error correction and data integrity checks, reducing the chances of data loss or corruption during transmission.
With reliable and uninterrupted connections, businesses can have peace of mind knowing that their remote access operations will run smoothly and without any hiccups.
By utilizing a premium SSH server, businesses and organizations can benefit from faster network speeds, increased bandwidth, and reliable connections, improving productivity and efficiency in remote operations.
Premium SSH Server Providers
Top providers of premium SSH servers
When it comes to premium SSH servers, there are several providers that offer high-quality services to meet the needs of businesses and individuals. Some of the top providers in the market include:
SSH.com: Known for its secure and reliable SSH solutions, SSH.com offers premium SSH server services that prioritize data privacy and protection. They provide features like multi-factor authentication, access control, and comprehensive auditing capabilities.

Bitvise: Bitvise SSH offers a feature-rich premium SSH server solution that is trusted by many organizations worldwide. Their server software supports Windows platforms and provides advanced security features like strong encryption algorithms and customizable authentication methods.

OpenSSH: OpenSSH is a widely-used open-source SSH server provider that offers a premium version with enhanced features and support. Their server software is known for its robust security measures and seamless integration with various operating systems.
Comparison of features and pricing
When evaluating premium SSH server providers, it's essential to consider factors like features and pricing to make an informed decision. Each provider offers different packages, and the pricing may vary based on factors such as the number of users, server capacity, and support options.
It is recommended to compare the features offered by each provider, such as encryption strength, support for key management, and compatibility with different operating systems. Additionally, consider the level of customer support provided and any additional services or tools included in the package.
While pricing is an important consideration, it should not be the sole deciding factor. Look for providers that offer a good balance between features, reliability, and cost-effectiveness, ensuring that you get the best value for your investment.
By choosing a reputable premium SSH server provider that meets your specific requirements, you can enjoy enhanced security, performance, and flexibility for your remote access and data transfer needs.